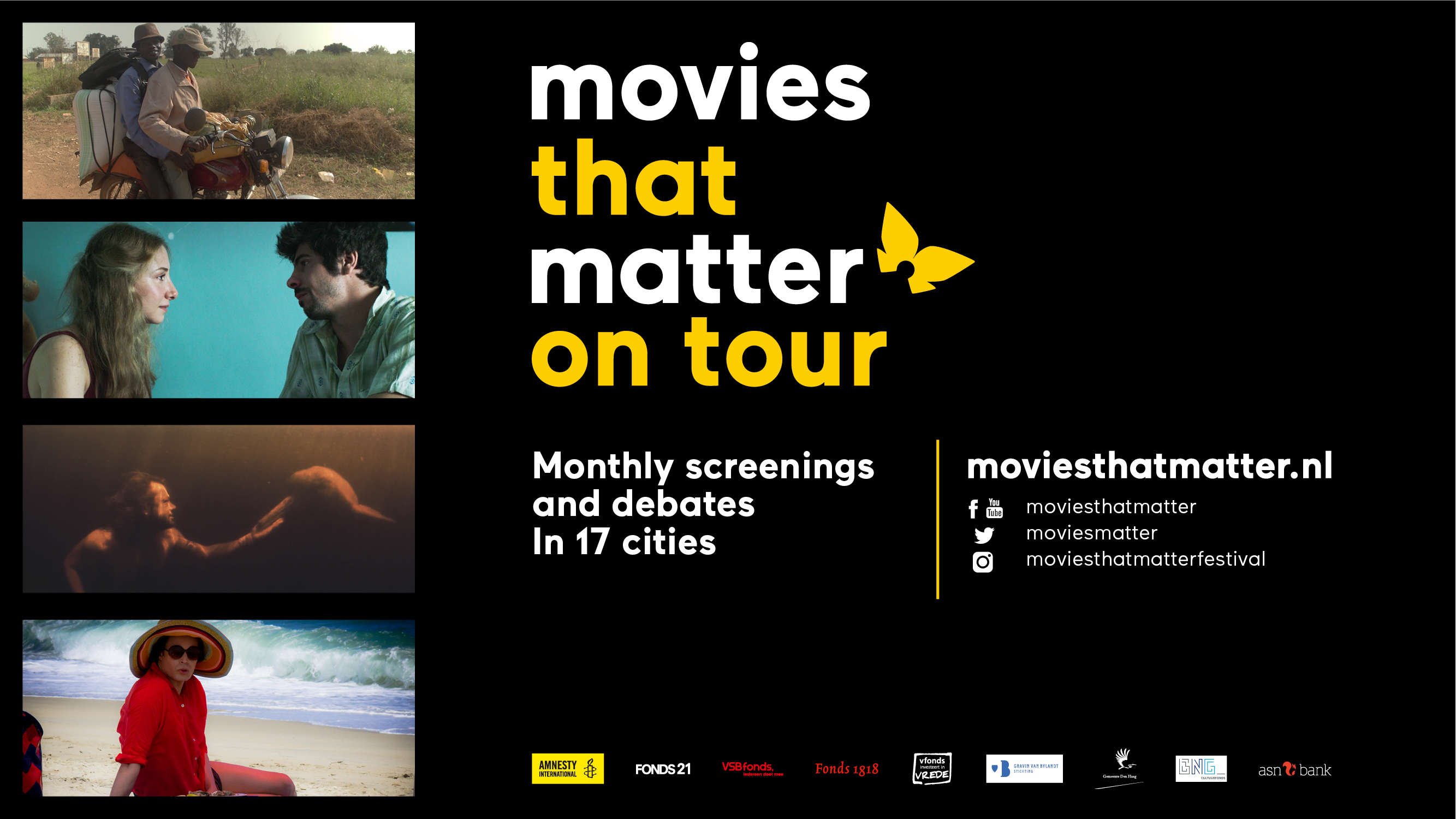 Movies that Matter is a foundation and initiative of Amnesty International. Movies that Matter (MTM) uses movies and documentaries:
to make people aware of human rights and situations where human rights are at stake / risk
to stimulate discussion about (the importance of) human rights, to let people (re)commit themselves to human rights and in that way influence public opinion towards human rights in a positive way.
Apart from the annual Movies that Matter Festival in march in and around Filmhuis Den Haag (The Hague), the foundation organizes monthly screenings, with an interview or debate afterwards with diverse guests: Movies That Matter on Tour. The audience has the opportunity to ask questions and participate in the debate. Movies That Matter on Tour is organized in cooperation with movie theaters and local partners in nineteen Dutch cities.
Do you wish to be informed by email about our next screening, including panel members/guests? Send an email to Dit e-mailadres wordt beveiligd tegen spambots. JavaScript dient ingeschakeld te zijn om het te bekijken., with "Info next MtM-movie/documentary" in the title. Or like our Facebook-account and receive information about our next movie on your timeline.
---
Movies and documentaries Leiden, October 2017 - January 2018
All movies are screened at Kijkhuis (Vrouwenkerksteeg 10).
Entrance: 9 euro, students with collegekaart [proof of being student]: 7 euro. If you own a Cineville card: free entrance.
Monday 9 October 2017, 19.00 hrs.
Director: Maartje Wegdam and Ariadne Asimakopoulos
Netherlands, 2017, first run
Documentary, 76 min
Language: English, Acholi, English subtitles
Sixteen years after being abducted as a child by the Lord's Resistance Army (LRA), the rebel army of Joseph Kony, Opono Opondo returns home to Uganda. Now an adult former war commander he has to re-adapt to civil society.
Opono doesn't know the codes and conventions anymore. While Opono pursues a new career as a carpenter - he opens a shop and designs business cards – he attempts to reconnect with the people closest to him. This is far from easy. Child soldiers are feared, so Opono chooses to remain silent about his former life while dwelling anonymously in a city.
One day Opono's former comrade, LRA top commander Dominic Ongwen, is captured and taken to the International Criminal Court in The Hague. Ongwen is charged with seventy counts of war crimes and crimes against humanity.
Questions of accountability creep into Opono's mind. Ongwen was abducted as a child, just like him. Who is victim, who a perpetrator? Why didn't the government protect him against abduction? Who compensates for Opono's lost childhood years, his missed educational opportunities and current scarred relationships?
No Place for a Rebel avoids stereotypes of child soldiers ('innocent', 'irreparably damaged', 'demonic, drugged murder machine'). This leaves the audience wondering as much as Opono himself. Is Opono victim, perpetrator or both? Who has to do what in order to prevent, remedy, compensate or punish for things gone wrong?
After the screening Alette Smeulers will comment on the documentary and invite the audience to reflect along with her. Smeulers is professor of international criminology. Her inter- and multidisciplinary research focusses on the causes of war violence, on perpetrators and on (international) criminal justice.
Monday 13 November 2017, 19.00 hrs

Director: Phillippe van Leeuw
Belgium, France, Lebanon, 2017
Fiction, 85 min
Language: Arabic, English subtitles
Awards:
Panorama Audience Award - Berlinale 2017
Caught in an apartment in Damascus Oum Yazan is trying frenetically to keep her family together. There is hardly any water and every trip outside the door spells danger on account of the snipers on the rooftops above. Grandfather plays with his grandson and tries to teach him stuff, making up for his not attending primary school. The oldest daughter flirts with her boyfriend, in her room. A young couple with a baby, living one level above, are planning their escape.
Life inside the house isn't safe either. Bombs hit buildings at random and then there's is humankind. Up above, threatening noises can be heard. And who's that knocking at the door? It could be Oum Yazan's husband whose return she has been anxiously awaiting, but also strangers, hunting down deserted places for valuables.
Claustrofobic movie about 24 hours in the life of people in a war-torn area. After the screening Arabist Maarten Zeegers will comment on the current political and military situation in Syria. Zeegers studied islamic law in Damascus at the time of the 2011 uprising. He became an anonymous reporter for Dutch papers until he was expelled from the country. He wrote a book about his experiences, Wij zijn Arabieren (We are Arabs). Zeegers is married to a Syrian woman.
Monday 11 December 2017, 19.00 hrs.

Director: Mark Grieco
US, Colombia, 2017
Documentary, 85 min.
Language: English, Spanish, English subtitles
Awards:
Environmental Award - Sheffield Doc/Fest 2017
Deep in the Amazon lives the pink river dolphin, the boto. Boto's are an easy prey for local fishermen. As the fishermen are active along a wide area, covered by nature, their illegal practices are difficult to stop. Dead boto's are used as bait in other lucrative fishery, aimed at the piracatinga. The practice started in 2002. As a result the boto faces extinction.
Brazilian celebrity tv-biologist Richard Rasmussen (a kind of Steve Irwin) utilizes his program on the Brazilian National Geographic-channel to organize resistance against the illegal boto-hunt. Fernando Trujillo, another biologist, fights for the preservation of the boto in his own manner, if only because the caught piracatinga's are poisoned with mercury and unfit for human consumption.
Rasmusssen and Trujillo use different tactics. As the documentary unfolds tensions mount. A scandal is revealed. The viewer is unexpectedly confronted with the question: what means are allowed in campaigning for a good cause?
A River Below is a magnificent documentary full of twists, holding up a mirror to both cynic and idealist.
Monday 8 January 2017, 19.00 hrs.

Tamara
Director: Elia Schneider
Venezuela, 2016
Movie, 115 minutes
Language: Spanish, English subtitles
Awards:
Da Vinci Award Best Movie, also awards for best director, best actor and best filmscore - Milan International Film Festival 2017
Nueva Vision Award - Santa Barbara International Film Festival 2017
After graduating from law school in Paris, Teo pays a visit to his parents in Venezuela. He plans to quickly return to his friends in the emancipated city, where he feels more at home than in his conservative birthplace. But when his mother is diagnosed with a serious illness, he decides to stay to take care of her.

He is unlikely to be recruited wearing high heels and long hair, so he changes his women's wardrobe for a handful of business suits. He soon finds a well-paid job as a law professor, marries a beautiful woman and becomes the father of three children. On the surface, his successful career and neat family create a perfect image. But on the inside something is gnawing at him.
After a few years of keeping up appearances, Teo puts all he has achieved at stake to follow his heart and find his true identity. Driven by a deeply-felt desire, he sets out on a long and troublesome journey to start a new life as a full-fledged woman.
Tamara is based on the life of Tamara Adrián, the first Venezuelan transgender parlementarian.